This guide walks you through the general configuration of your business unit, including general setup of the business unit, locations where you teach, staff in your business unit, available equipment and setting up online payment module, Merchant.
BUSINESS UNIT
Here you must fill out all relevant information about your business unit. This information, among others, is what forms the basis of what is on the invoices sent to the players. The address shown here is also the fix point on which players will get a search result if they search for business units near them etc.
LOCATIONS
Here you have to add all the locations (clubs) where staff from your business unit teach. The locations added here is to be used later on when you set up the calendar for each staff. Locations is also used to provide the members of that specific location easier access to staff in their own club.
STAFF
Here, all staff who need access to the system is added. [Username] [1] specified here, is the user name to be used on login, and can be the same as the e-mail address.
[Type] [2] indicates the type of staff in question. Only staff with the type [Head Pro], [ProTrainer] and [assistent] is displayed for players upon seach. The types [Clerk] and [Other] is used for staff who only need to manage the system.
The short info as may be specified, links to various social media as well as added expertises, will be visible for players.
In [E-mail notifications] [3] you must specify which notifications that specific staff should receive. These notifications can be different, depending on whether it is a lesson or a course, or you can choose same notifications for both lessons and courses.
[Application rights] [4] indicates which areas of the system that specific staff shall have access to edit.
In [Equipment rights] [5], you can specify which type of equipment the staff shall have access to use. Available equipment in this section depends on the equipment you add in EQUIPMENT (see below).
EQUIPMENT
Equipment is something you can add, if you have equipment that is used in lessons, eg. video camera, trackman etc., but you do not have enough number of equipment for all the staff.
To add equipment, you just press [Add new equipment] and fill in name, visibility, short info (optional) as well as assigning the staff who needs to be able to use this equipment in lessons / courses.
EXAMPLE ... A business unit has one trackman but three staff employed, all of which are trained to use trackman and therefor offers trackman lessons all of them. With only one trackman available there will be a problem if 3 players book a trackman lesson with each individual staff, to be held at the same time. In this case, the business unit should add its trackman as equipment and appoint the trackman to each staff and the type of lesson that involves the use of trackman. When a player then books a lesson that involves the use of trackman, no other player can book the same type of lesson with another staff, to be held at the same time, because the equipment is already used.
NOTE ... If your business unit have enough trackmans, video cameras etc. for all the staff, it is not necessary to add and assign the equipment to the individual staff and lessons. Only when there is not enough for everyone who can use the equipment.
NOTE ... It is necessary to add an availability in the calendar for each equipment you add, just as you have to add an availability for each staff. For more details see Guide to CALENDAR.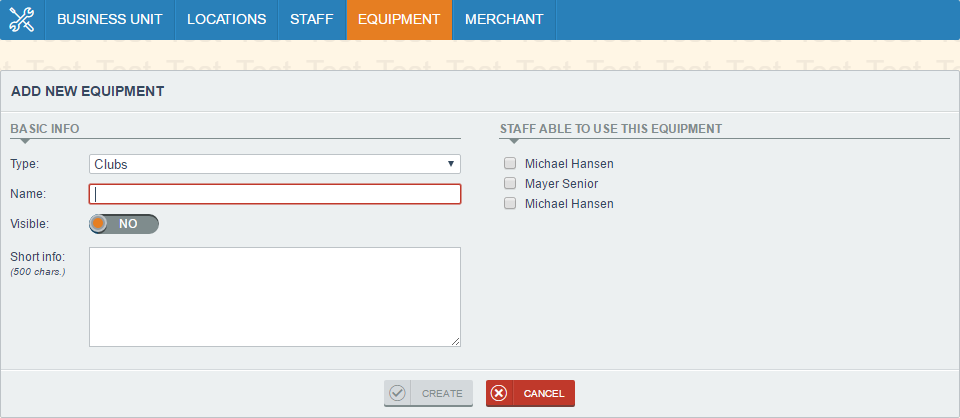 MERCHANT
In Merchant, you need to fill out information used in connection with online payment of lessons, courses and value cards through DIBS, PayPal etc. If you don't have online payment, you can just leave the fields blank, or you can remove the check mark at the bottom in the box [Use the merchant in booking] [4]. Only value cards and payment by attendance can then be used as a method of payment.
All fields marked in RED are required.
[DIBS Merchant ID] [1] can be found by logging onto your DIBS agreement.
Tick ​​[Instant capture] [2] if the money shall be deducted from the player's credit card as soon as paid. If this is not ticked, it will be necessary to log on to DIBS and manually withdraw money from the card.
[MD5 keys 1 and 2] [3] you will also find by logging into your DIBS agreement and click INTEGRATION in the left menu and then MD5 keys.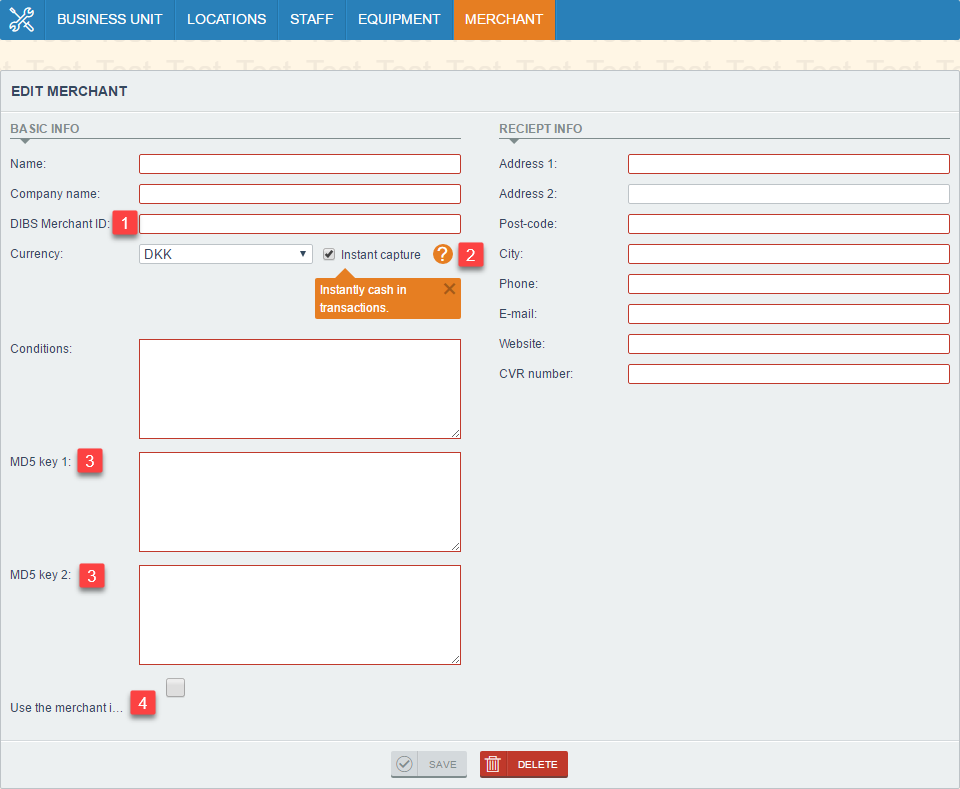 You have now completed the first part of the setup. The next step is setting up CALENDAR.
Related guide for setup and administration of GolfBox ProTrainer/ProPlanner:
For information about additional setup and administration off the GolfBox ProTrainer/ProPlanner system, see our other Guides.