It is now possible to deviate from the standard tee selection and make som more advanced choices.
This can be players over 60 years always play from the front tee boxes, or that players with handicaps below 5 always play from the back tee boxes (standard may be middle tee box)
This can now be changed under Rounds and Formats.
When inserting a deviation, all players that fits into this deviation, will play from this tee box. All players not fitting into any deviation, will play from the standard tee boxes as usual.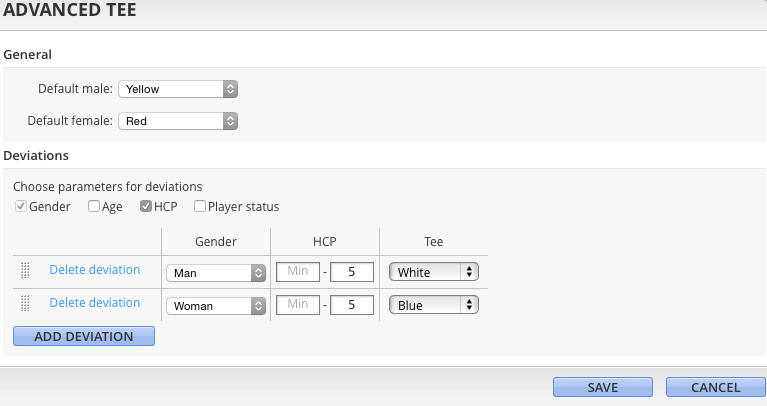 In this example, the tee boxes are Yellow and Red but the deviation choose all players with a handicap below 5 to play from White and Blue tee boxes.
This can also be used in a Pro/Am, where the pros play from White tee box, but the amateurs play from Yellow and red tee boxes.
REMEMBER - if a player is not "hit" by a deviation, they will always play from the standard tee boxes.
NB: It is still possible to manually change the tee box of a single player, by going to the complete startliste and click on a player to change the tee box.