This guide will start with the limitations we are bound to have, for the module to work properly.
It is very important that common sense is used when setting up multi classes to avoid situations where a player could play on one course in one class and another course in another class, all in round 1. So please think about the setup before starting to use the module.
This guide will cover the setup of players playing in more classes at the same time, for instance a Gross class and a Nett class. This could also be the club championsships where there is an overall championship and an age championship and you can compete in both, with just one score.
It is VERY important to read the limitations below, before you start the setup. If you conflict with the limitations, you may not be able to complete your tournament as expected. We also encourage you to setup a test tournament to make sure everything is behaving as expected
OBS: OBS: OBS: Classes with multiple participants must have the same coursestarts, otherwise a startliste and scorecard will be created for each coursestart.
LIMITATIONS:
CUT – in this version a missed cut in one class, will mean that the player is missing the cut in all classes.

It is not possible to participate in classes that does not play the same number of holes. For instance, once class is playing 9 holes and another is playning 18 holes.

Online signup will not be ready for this version (where the player can choose which classes to signup to)

ONLY player classes can have multiple classes, not Team classes yet.

The startlist will follow the Primary class, unless the secundary class hasa round that the primary class will not play.

If a player gets a NR or DQ, this will be for ALL classes.

If you are playing strokeplay and stableford in different classes, the player will not be able to pick up the ball.
SETUP
The setup starts under CLASSES - here you can chose to the right "Players can participate in more than one class".

When this is done, players must be signed up. To start with, will online signup only enter the player into his primary class (the class that fits him). Chosing the rest of the classes, must be done manually by the administrator.
If you use Quick Signup, you are able to choose classes right away.
In Quick signup, you choose which classes the player wants to participate in and which class that is the PRIMARY class.
The Primary class is the one used when making the startlist, unless there is only a startlist for the secondary class, then this class is used instead.
It is IMPORTANT that all players have an Primary class.
If there is already players signed up, when Multi class is applied, their Primary classe will be the class they are already assigned to. The player can be added to change this or add secondary classes.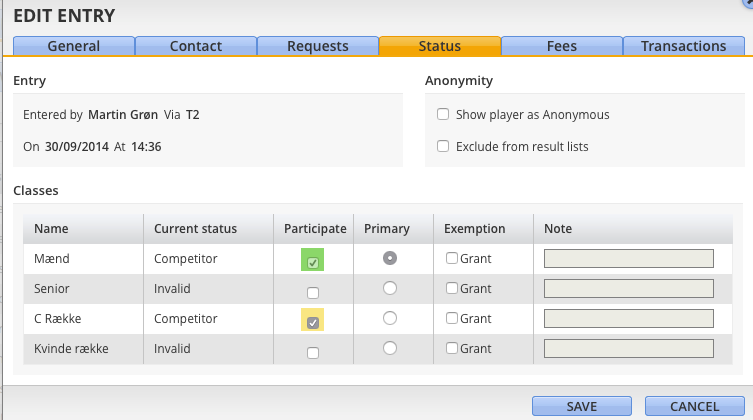 To make it even easier to get an overview, we have added a new list called Multi class List (under Lists).
This list will give a complete overview over all participants in their classes. GREEN means they fit in the class. YELLOW means they can be in the class, but maybe age is wrong. RED means there is something completely wrong and this player should not be in this class.

If there are players with redt, there is an error that must be corrected, as this error will stop the startlist from being created.
On the overview picture you can now see how many are primary and how many are sekundary (the number in parentheses).
When everyone is assigned all their classes, the startlists can be created as ususal. REMEMBER - one course start will create one scorecard, more coursestarts will create multiple scorecards.
On the leaderboards, the players will now appear in all the classes they are entered into.