Connect an Order of Merit with a competition
Type: Lowest Gross Score
Type: Lowest Nett Score
Type: Highest Stableford Score
Type: Highest Modified Stableford Score
1. Click on COMPETITIONS in the main menu and click on the specific competition you want to connect with an OOM
2. In SETUP you click EDIT relating to ORDER OF MERIT
3. Click ADD NEW (relates to adding a new connection to an existing OOM)
4. Select the right OOM in the dropdown menu
5. Select the class which results should be transferred to the OOM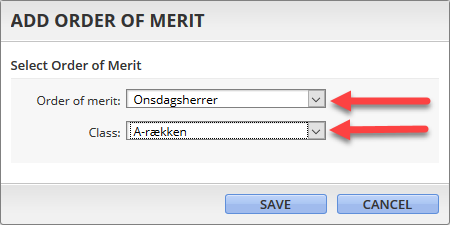 6. Finish of with SAVE
NOTE ... You can transfer results to as many OOM you want. It just requires that you create a connection to each OOM and for each class to be transferred. If you for example have a total OOM across classes in a competition, you have to add a connection to the same OOM for each class. On the other hand, if you have one or more classes to be transferred to several different OOM, you also have to add a connection from each class to each OOM.
NOTE ... It is possible to transfer a result to an OOM with a different result type than the format you have played in the competition.
Example: If you play a competition where one class plays stroke play and the other class plays stableford. You can still transfer the results for both classes to an OOM with result type "Highest Stableford Score." Results for the class playing stroke play, will automatically be converted to stableford score in the transfer. You can also transfer a result from a stableford competition to an OOM with result type "Highest modified stableford score" and so on.
You CANNOT however transfer a result from a stableford competition to an OOM with result type "Lowest Gross Score" and "Lowest Nett Score" as this type of OOM requires a result on each hole and in stableford players can pick up the ball on a hole.
Type: Most Prize Money
Type: Most Points
1. Click on COMPETITIONS on the start page and click on the specific competition you want to connect with an OOM
2. In SETUP you click EDIT relating to ORDER OF MERIT
3. Click ADD NEW (relates to adding a new connection to an existing OOM)
4. Select the wright OOM in the dropdown menu
5. Select the class which results should be transferred to the OOM
6. Select a total amount of money/points and the number of positions that receives money/points and the amount for each positions. Additionally, you can choose whether all players shall receive a minimum amount and wether or not to include amateurs in the calculations.
In the example above points are awarded to the first 5 positions. No. 1 gets 15 points, no. 2 gets 10 points, no. 3, 4 and 5 respectively, receives, 8, 6 and 4 points. Furthermore all the other players receives 1 point.
Breakdown template
If players receive a total amount of money/points, by a certain percentage to no. 1, 2, etc., you can advantageous create a breakdown template. This is described in another manual.